FOUNDER HON. GEN. SECRETARY
(1946– 1969)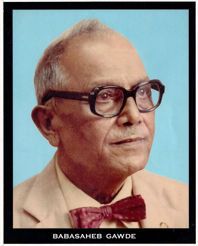 Gangaram Govind alias
Shri Babasaheb Gawde
FOUNDER PRESIDENT
(1946–1961)
His Highness, Lt. Gen
Sir Jivajirao Maharaj Shinde
MARATHA MANDIR
A charitable institution was established on 30th March 1945 by Founder President, his Highness Lt. General Sir Jivajirao Maharaj Shinde of Gwalior, alongwith Founder General Secretary Shri G G alias Babasaheb Gawde a Senior Police official who left his promising career in British regime, to volunteer for the noble cause, to support the Founder President, in building this strong organization. The other prominent founder dignitaries included Flt. Lt. Shri Patangsha Mukne of Jawhar, Shri Narayanrao Kamte, who was the first Indian Inspector General of Police, of Bombay, just before the Independence of India, Shri T D alias Dadasaheb More, Founder Secretary of MARATHA MANDIR.
One of the key contributor and prominent personality associated with MARATHA MANDIR was Adv. C J Sawant, Advocate General of Government of Maharashtra was associated as Hon.General Secretary of MARATHA MANDIR for 33 years.
All these dignitaries had the vision to perceive that the forthcoming Independence by itself would not bring back the glorious past of India, with over 80% of its population living in rural areas without education. They recognized the need of the hour and set up strong institution to educate the people, to make them aware of the rights, as well as what they can be and what they can do for the nation.
After 15 active years of the Founder President, Sir Jiwajirao Maharaj Shinde, Shri Babasaheb Gawde –the visionary, led this prestigious MARATHA MANDIR , as Hon. General secretary, to give wider perspective to common citizens, irrespective of Caste, Creed and Religion.
The founders named this institution as "MARATHA MANDIR" the word "Maratha" to mean all those who consider Maharshtra as their domicile and the word "Mandir" to signify the purity in human life. MARATHA MANDIR, with over 70 years of existence, has carved a niche for social, cultural and educational life in the state of Maharashtra.
Today, with over 70 years of strong existence in imparting Quality Education, this Institution stands testimony of producing some of the finest and eminent personalities.
MARATHA MANDIR has wide spectrum of activities spread through variety of activities/programs.